Reel Capacity Calculator
(feeting or spooling on a drum)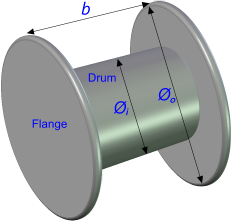 Fig 1. Drum Dimensions
Packing Density
The packing density achieved on a reel (bobbin or flanged drum) will be dependent upon the care taken during wrapping. In theory, perfection will produce 100% packing density but it is rarely possible.
Reel Fleeting Calculations
A good fleeting facility (guidance system) should produce between 85% and 95%. Careful packing by hand should achieve 75% to 85% and you should expect between 60% and 75% with rough wrapping.
Go to the calculator